Immortalising the most beautiful places while travelling has become a way of life. We are no longer able to visit a destination without our mobile phone or camera, let alone without sharing it. Under the hashtags 'wanderlust', 'lifestyle' or 'travelgram', the passion for showcasing remote places has taken over an absolutely unique showcase, Instagram.
You've probably already decided that you're going to Fuerteventura for a sunny, tropical holiday. It is also likely that you have used social media to find out more about the hotel you have chosen or to get a first impression of the most incredible places on the island. Not only do we look for information to organise our trip, but we also select those places where we can truly enjoy our days off and, moreover, that are worthy of immortalising.
From R2Hotels, we have decided to make it easy for you and, if you still don't know the amazing island of Fuerteventura, you might be interested to know where some of these places are.
Las Peñitas Ravine and Arch
The Barranco y Arco de las Peñitas is one of the most beautiful and photographable landscapes of Fuerteventura. It is part of the Protected Natural Area of the Betancuria Rural Park and is located between two villages that are a must on our trip, Betancuria and Ajuy. It is an impressive and very unusual setting on an island known for its great beaches. If your intention is to get to the Arco de Las Peñitas where you can take one of the most curious photos, you have to take a walk of about half an hour, so we recommend that you wear suitable footwear. Formed by wind erosion, it is undoubtedly one of those marvellous treasures that nature offers us.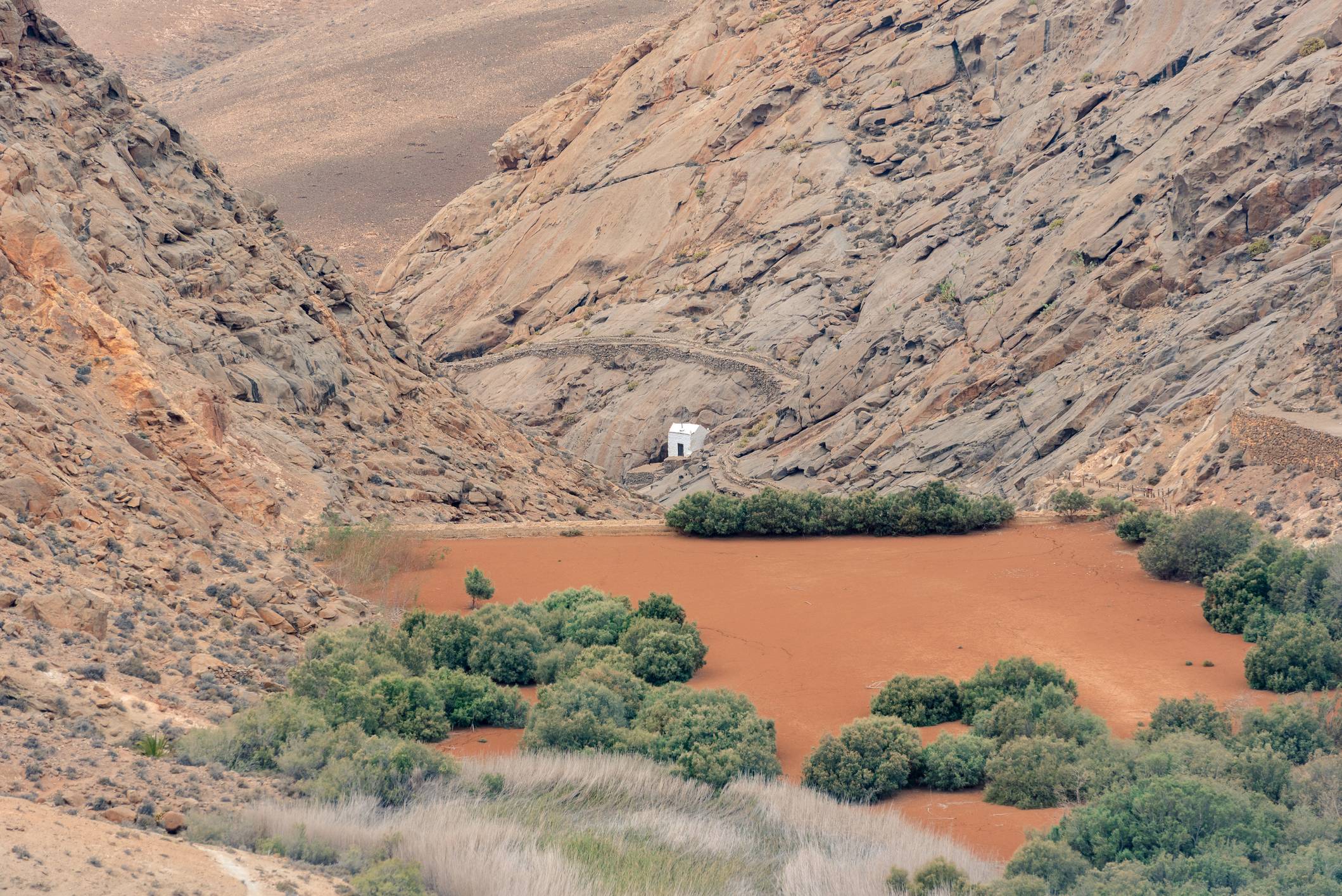 Fuerteventura's long and, in some sections, winding roads are ideal for those who want to capture a different kind of landscape. Finding them is very easy. If you have prepared a route to get to know the most touristy spots on the island, you won't have to look for them, you'll find them on the way. Fuerteventura's incredible light will make things easy for you. Bring out all the creativity you can muster to find the perfect perspectives and framing to get the best shot.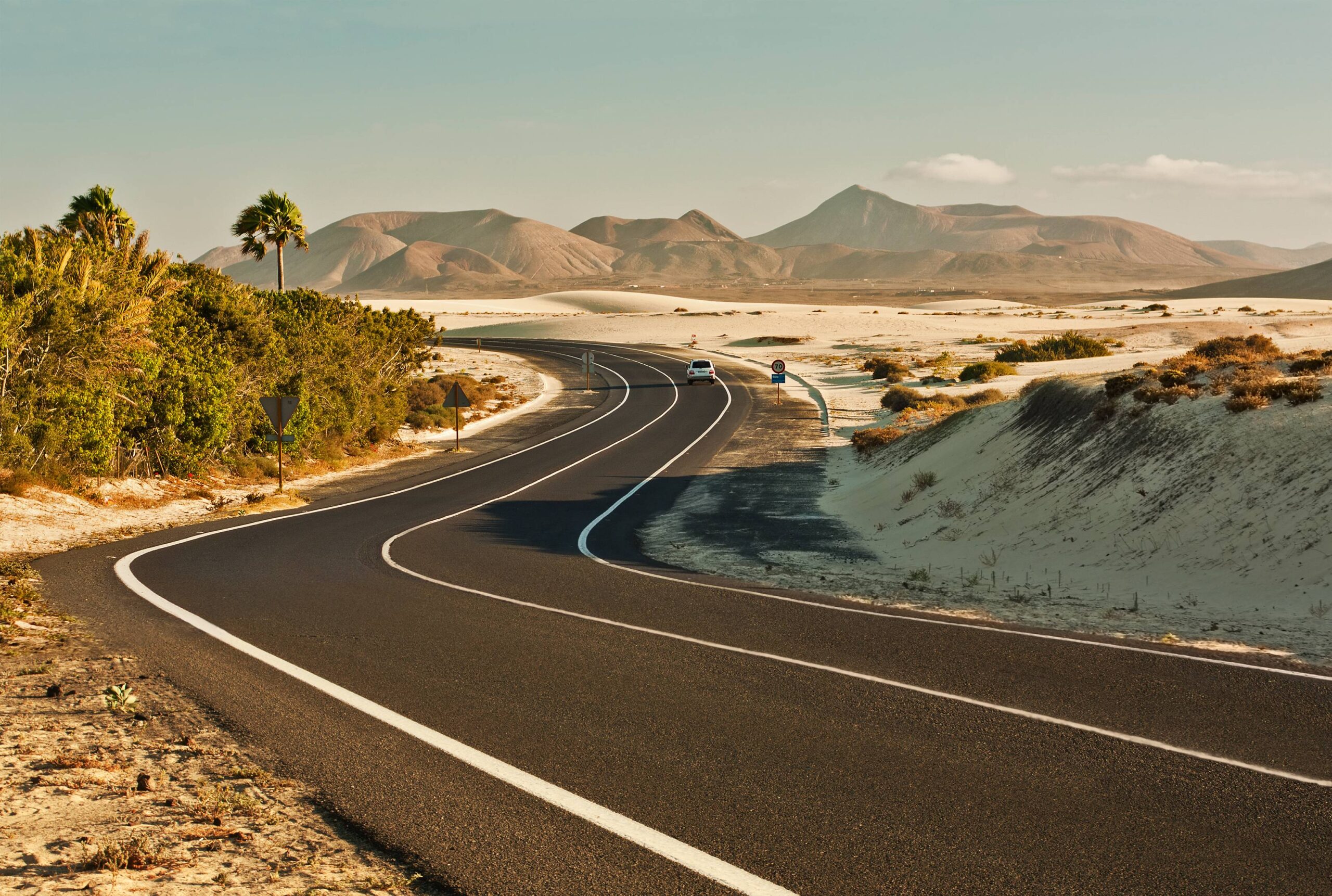 The beach of El Hierro or Popcorn beach
In La Oliva, hidden between the fishing village of Majanicho and the port of Corralejo, we find El Hierro beach, one of the most visited and photographed spots in Fuerteventura. Better known as Popcorn beach, it has gained enormous popularity after going viral on social networks. This beach has different types of sand, one with fine sand and another that, as shown in the picture, looks like popcorn! (Or, as we say in the Canary Islands, roscas or cotufas). It is nothing more than rhodoliths (calcareous algae). This peculiarity has made this beach in the north of the island one of the most visited and most immortalised. Of course, if you get here, be responsible with the environment. Disrespectful practices have endangered this place in recent times.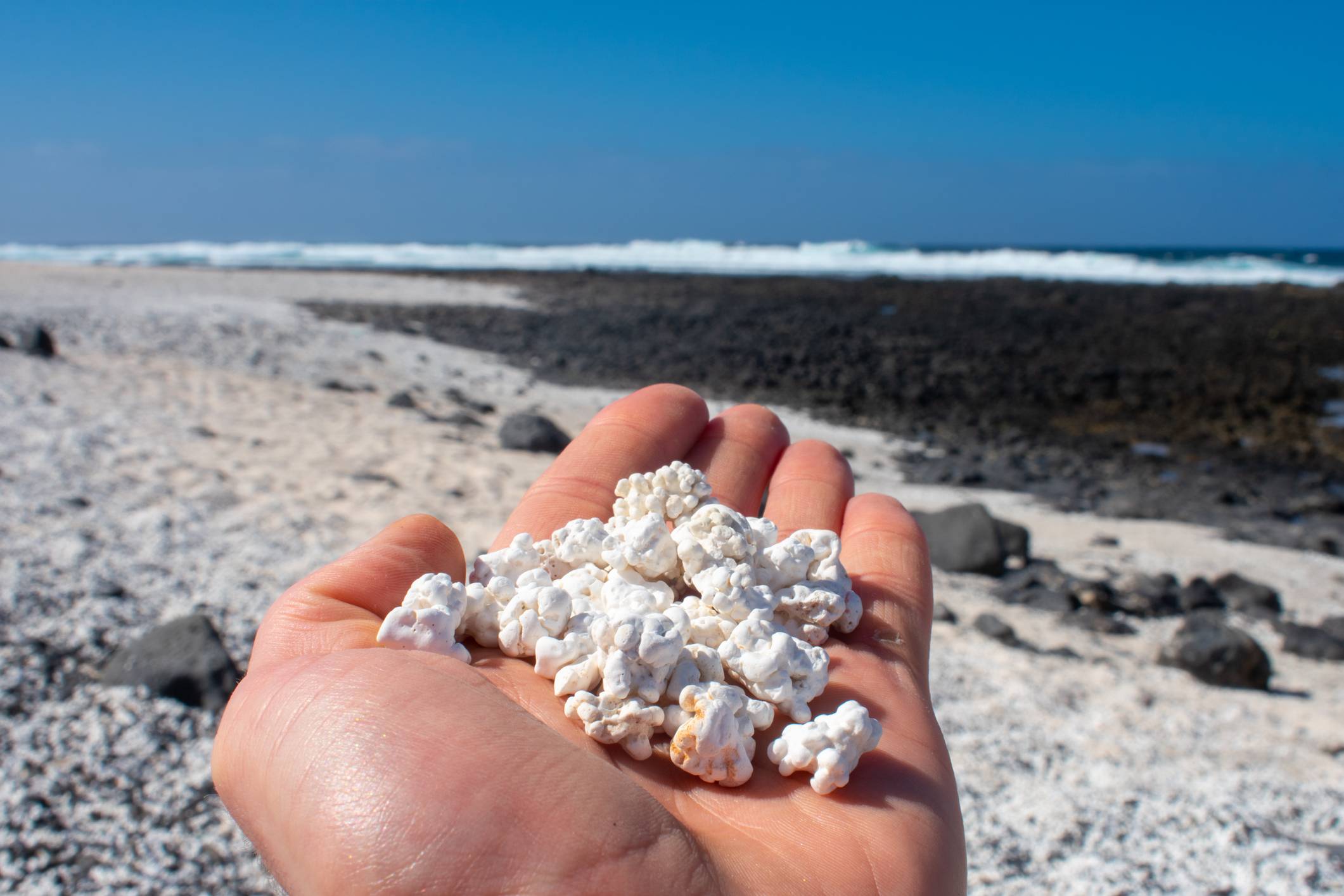 Viewpoint and beach of Cofete
Cofete is one of the wildest, least developed and largest beaches in the Canary Islands. It is located in Jandía, in the south of Fuerteventura, and is a visual treat for lovers of landscape photography. It is not very easy to get here, and is accessed via an 8.5-kilometre dirt track, with sections that are difficult, but absolutely surmountable. An obligatory stop before the end of the route is the Mirador de Cofete viewpoint, where we can assure you that you can safely take your mobile phone or camera out for a walk. Once you have passed this point, the only thing left to do is to park and enjoy the immense landscape, sharing this natural wonder on your networks.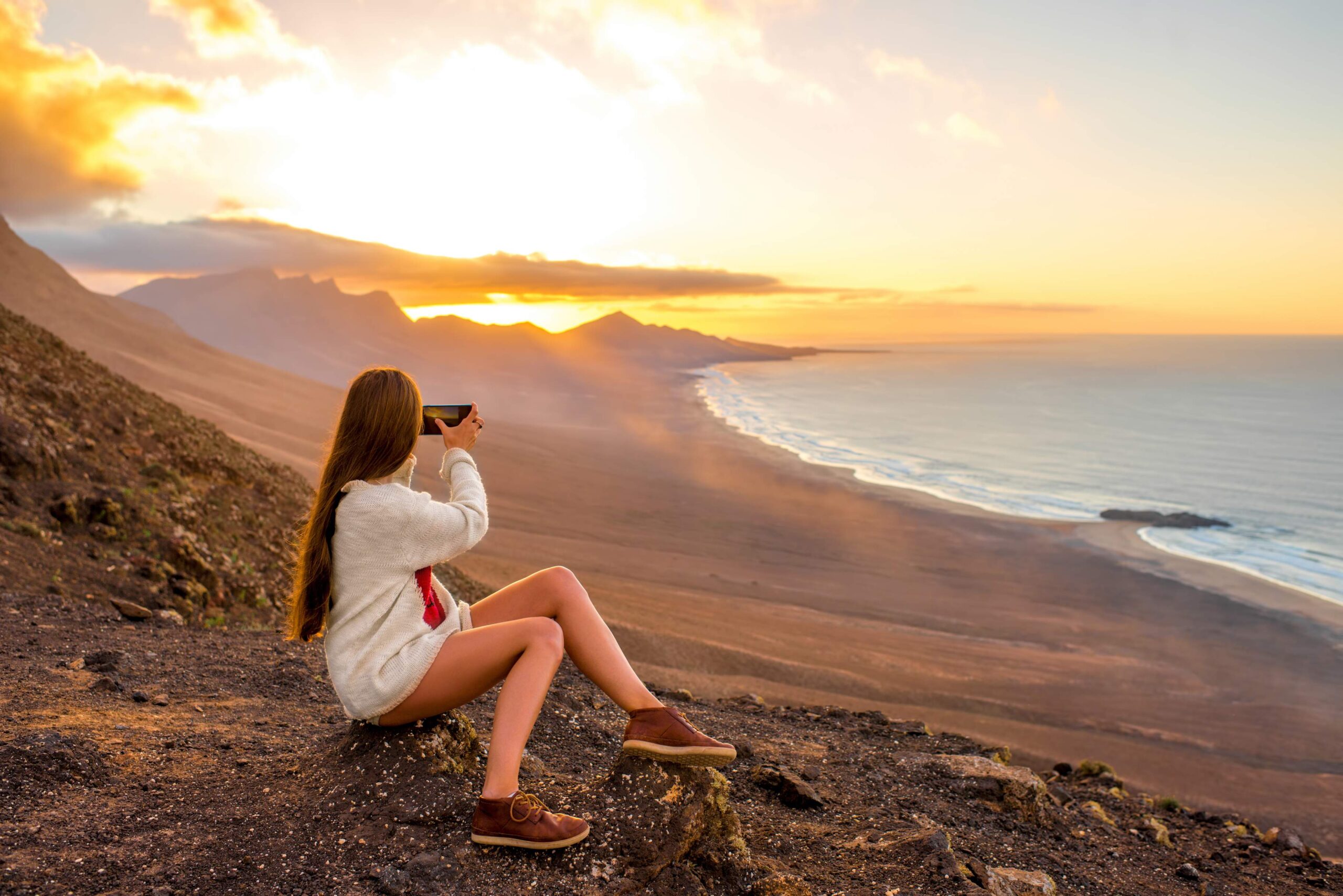 On the islet of Lobos there is one of the most shared spots on instagram in the Canary Islands. Who hasn't seen the famous photo of the Puertito de Lobos on their social networks at some point? It's not on the island of Fuerteventura and to get there you'll have to take a boat from Corralejo and 20 minutes later you'll be at your destination. This is one of the must-see photos during your trip. Take out your camera, measure the light and look for the best frame in the direction of the wooden walkway. The crystal clear waters, the contrast of the volcanic background and the bluest sky you've ever seen will be the perfect ingredients for the photo that will be a hit on your social media.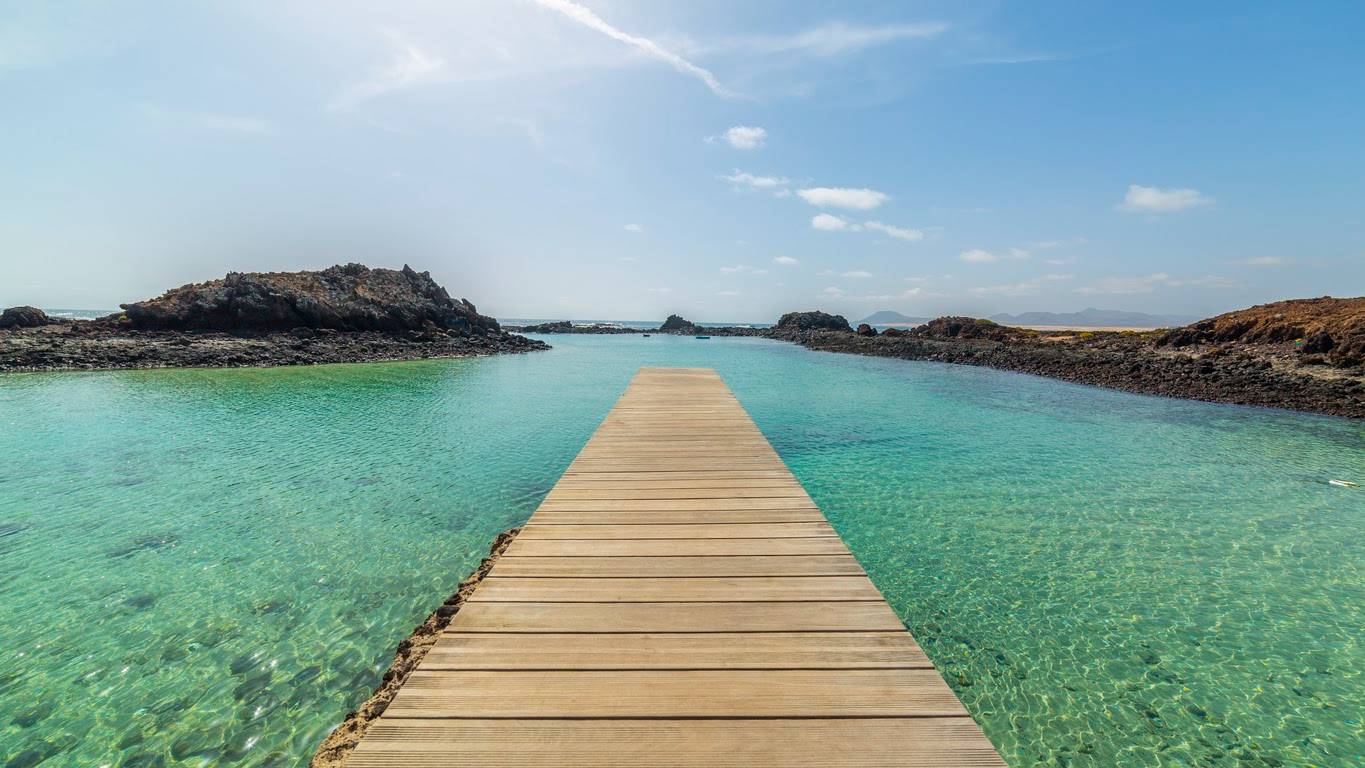 We hope that these points on the map will help you to get to know this island better. And between excursions, you can also take the most 'instagrammable' photos in the surroundings, pool or jacuzzi of any of our hotels in Fuerteventura. We'll be waiting for you!